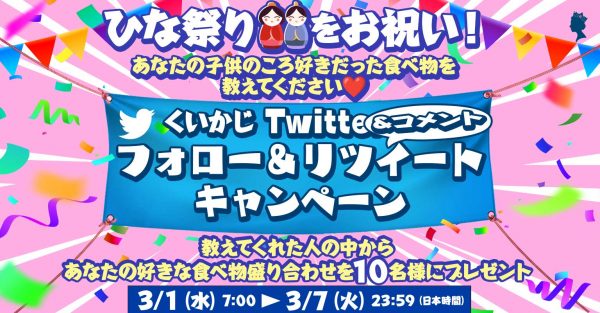 Celebrate the Hinamatsuri 🎎! Please tell us what your favorite food was when you were a child 💓
We will give away your favorite food platter to 10 people from those who told us 🎁
[Campaign details]
Follow the Queen Casino official account & RT & comment on your favorite food when you were a child ✨
If you meet the conditions, 10 people will be given an assortment of your favorite food by lottery 🍑
[Holding period]
March 1, 2023 (Wednesday) 07:00:00 to March 7, 2023 (Tuesday) 23:59:59 (Japan time)
[Present content]
Food assortment that you liked when you were a child💓
[Application method]
① Follow Queen Casino official account (@QueenCasino_0)
② RT the target tweet
③ Comment on the food you liked when you were a child
④ After the lottery, the target person will receive a DM.
[About the winners]
After March 8th, the winners will be notified by DM in order.
[How to receive gifts]
We will attach the application form to the DM, so please enter your address etc. according to the contents there
.
[Notes]
<About the campaign>
・ Details will be sent via DM (direct message) on Twitter for contacting the winners. Be sure to follow the official account "@QueenCasino_0".
・ If you do not meet all the campaign participation conditions, it will be invalid.
・ If there is no reply within 3 days after contacting us by DM, we will invalidate the right to win.
・ A Twitter account is required to participate in the campaign.
・ Campaign details and prizes are subject to change without notice.
・Personal information received from participants shall be handled in accordance with the personal information protection policy separately established by our company
.
・If you freeze or delete your Twitter account, or unfollow "@QueenCasino_0", you will not be able to send DMs, so it will be invalid.・
If you change your account name during the period, your application may be disqualified.
・We do not guarantee any damages caused by using the content written by a third party or damages suffered by the user.
・You cannot apply from multiple accounts by the same person.
・ In the following cases, you may not be eligible for winning
. If the account is private
– If the profile, user name, image, etc. are not set
– If the account has no actions (follow, RT)
– If the company determines that you participated immediately after creating the account
– If you unfollow @QueenCasino_0 before contacting us
– If you delete the account at the time of application
– If you change your account name and @user name during the period
*We will contact you Please do not change it until
[Handling of personal information]
・For the handling of personal information, please check here.
[Disclaimer]
・This campaign is a campaign that utilizes "Twitter". We are not responsible for any damage caused by interruption or cancellation of campaign management caused by the operating environment of applications related to Twitter.