Good day, Everyone!
This is Lisa, The blog writer of Queen Casino.
How's your weekend everyone?
Did you go shopping, go out to eat in restaurant, doing your hobby, whether you go out alone and enjoy your moment, share your time with your love one and family, doing to restore your anxiety, wanting an excitement thrill…
There are various ways to spend your weekends.  (*⌒∇⌒*)

QUEEN CASINO prepared a weekly campaign to help you spend your weekends.
It is a HAPPY SUNDAY!!!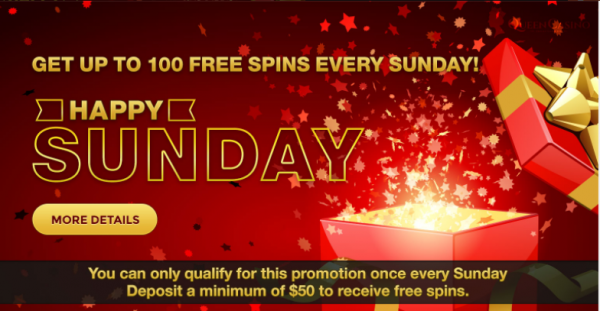 You can earn up to 100 free spins with a deposit of $ 80 or more and 50 free spins with a minimum deposit of $ 50 every Sunday.
Since this campaign is available every Sunday, it might be a good time to have more chances of winning and earn a lot of money. O(≧▽≦)O
The target game is Jungle Books

It might be a good idea to earn money of this opportunity 「(゚ペ)
You can instantly play with your cash through the fastest yet safest
Bank Transfer Method. Information on this blog is provided by Queen Casino,
the much talked about Internet casino, online casino Queen Casino, online casino, internet casino.