Hello everyone! This is Lisa the blog writer of QUEEN CASINO.
We are currently implementing a new version campaign where you can receive a lot of bonuses if you introduce your friends now!
This month is a different than usual friend introduction bonus! (*゚▽゚)ノ
Introduce QUEEN CASINO to your friends and ask them to deposit at least $ 100 each in June,
then you will receive a $ 100 bonus to the customer who is the referrals!
Please note that referrals must earn over 100 dollars in the current month. Σ(・ω・ノ)ノ☆
If you introduced three people → 100USD
If you introduced five people → 300USD
If you introduced 10 people → 1,000 USD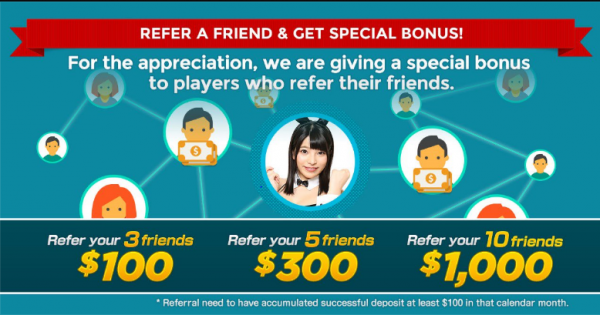 Let's introduce a lot of people and win your victory with everyone!
You can deposit cash and play instantly using your cash deposit!
Information on this blog is provided by Queen Casino,
The much talked about Internet casino, online casino Queen Casino, online casino, internet casino.