Hello everyone, this is Lisa the person in charge of Queen Casino blog.
Today Mahjong Hiroba (麻雀広場)is going to be introduced in the Queen Casino site.
Mahjong Hiroba (麻雀広場) is the sister company of Queen Casino🎵
Mahjong Hiroba (麻雀広場) is an online mahjong site where you can play with real money!
Various tables are prepared from the low rates to high rates and you can play for 24 hours.
There are also tournaments which you can participate for free,
and you can enjoy a wide range of players from beginners to those who like Mahjong!
The site's image girl is the pretty Nami Kawakami who is an active and popular sexy idol ❤️❤️❤️❤️ ️
Wow!! w(゚ロ゚;w(゚ロ゚)w;゚ロ゚)w oh, wow!!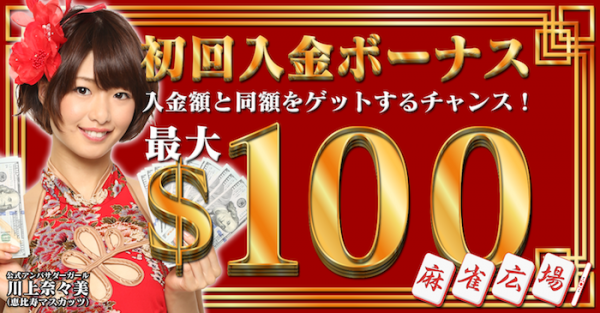 Besides that, if you register now by clicking the banner on the top page of QUEEN CASINO,
we have a special offer of a registration bonus worth 10USD!!
On top of that, we also upgraded the campaigns
including the first deposit bonus of up to 150%, so please have fun with it!
We are also planning a special collaboration campaign of QUEEN CASINO and Mahjong Hiroba (麻雀広場)
so please look forward to it ❤
Don't miss this very rare oppportunity evryone!!!
You can deposit cash and play instantly using your cash deposit!!
Information on this blog is provided by Queen Casino,
the much talked about Internet casino, online casino Queen Casino, oncasi, incasi.