Hello everyone, this is Lisa the person in charge of Queen Casino blog.
I have a very wonderful announcement to everybody☆ Recently it is becoming a regular event, in Japanese it is called [復活祭] "Easter Festival".
It is the most important holiday in Christianity to commemorate the revival of Jesus Christ on the third day.
Have you ever seen colored eggs when it's "Easter" time?
This is apparently because eggs mean life in birth in Christianity ヾ (☆ o ☆)
So now I am going to introduce our Easter campaign that will start today(*゚▽゚)ノ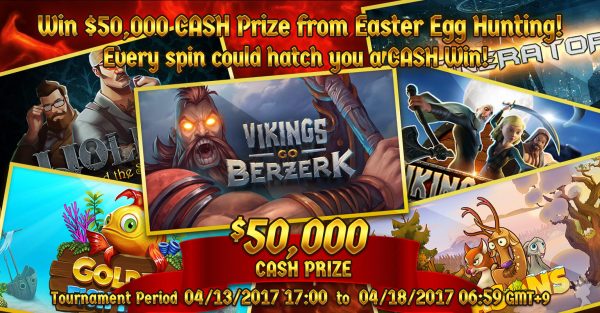 The campaign period is from April 13, 2017 17:00 to April 18, 2017 (Japan time)
This is a great opportunity for players to earn rewards from being chosen in the 2500 raffle prizes!
There will be a total of 2500 Easter eggs (winning raffles) to choose from, with a total cash priza pool of $50,000!!!
The biggest amount you can win is up to $2000♪
Choose the game you want to play from these selected slot games; Vikings Go Wild, Vikings Go Berzerk, Golden Fish Tank, Incinerator, Holmes and the Stolen Stones, and Seasons.
And play away!!!
There are 2,500 Easter Egg instances players can claim. But here's the catch: players can take home more than one Easter Egg!
That means, you could get the top prize of $2,000 CASH together with several other major CASH prizes.
Don't miss the chance to earn from this limited campaign!!!
You can deposit cash and play instantly using your cash deposit!! Information on this blog is provided by Queen Casino, the much talked about Internet casino, online casino Queen Casino, oncasi, incasi.